From the CORC team: Luís Costa da Silva reflects on his role as Research Associate at CORC
When I joined CORC two years ago I never anticipated the dramatic change in all of our lives that we are currently experiencing due to the ongoing COVID-19 pandemic, and that I would be writing this blog from my improvised home office. However, perhaps this presents itself as the perfect opportunity to reflect upon these past two years.
I joined the CORC team as a Research Associate in February 2018 and I am one of four researchers in the CORC team (if you have not "met" us yet, you can do so here). If you are one of our members, it is very likely we have spoken in the past about your data or your Service CORC Report. Working on CORC reports is an important part of my role. Every service is different and every report is adapted to ensure it's as useful as possible. We aim to ensure that member reports provide an insight into how the service are doing, demonstrating impact and identifying areas for improvement and I'm in regular contact with services as the report develops. 
Supporting member organisations to collect and use data from Routine Outcome Measures and advising members on which outcome measures are most appropriate for different purposes is a big part of my role. Sometimes these come in as relatively straightforward request through the CORC inbox and sometimes they're a little more complex. For example, to find out more about how common sleep problems are in young people accessing mental health support, the Norfolk & Suffolk NHS Foundation Trust approached us in order to analyse specific information from the CORC+ dataset on the trust's behalf. Analysis of 8,596 young people's Revised Childhood Anxiety and Depression Scale (RCADS) scores from the CORC+ dataset suggested that over 50% of young people aged 8-18 accessing CAMHS services across the country endorsed 'often' or 'always' on the 'I have trouble sleeping' question. The analysis of this data set concluded that children and young people who report higher levels of sleep trouble score significantly higher on all subscales of the RCADS, as well as Total Anxiety and Total Internalising. Having such a large database to explore allows us to investigate research questions and deepen our understanding of the difficulties young people experience and projects like this give real satisfaction within my role. You can read more about this specific CORC analysis with our members here. 
During my first two years at CORC, I have worked across multiple projects. The first ever project I became involved in was We Can Talk and this is still a part of my role. CORC works very closely with the We Can Talk team to help deliver mental health training and evaluate its impact of co-produced children and young people's mental health training in hospitals across the country. CORC supports both the smooth running of the training, and the analysis of staff surveys and impact data to ensure We Can Talk can provide high quality reports to partners and build the evidence base for training acute hospital staff in children and young people's mental health. My role is to analyse the data and produce the reports, as well as deliver training to help the We Can Talk project team use and communicate their data better.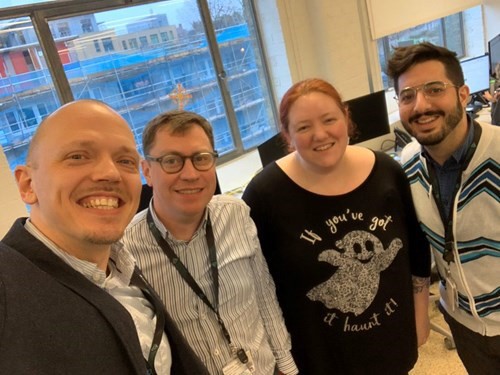 I have seen projects take different shapes and some projects growing bigger too. For example, when I joined the Link Programme as a researcher, this project was still in a trialling phase. Whereas now it is a nationwide programme, making us at CORC incredibly proud of the work we do to support it by contributing to the evaluation design, data collection, monitoring and quality assurance. It will reach every school and college in England over the next four years, identifying children and young people's needs at an early stage and equipping professionals to support them.
Working as part of the CORC team was also an opportunity to discover and experience new things. As part of some projects, I have worked with local authorities and met their incredible teams in charge of crucial interventions. I have spoken and interviewed many service users taking part in the programmes we evaluate, from vulnerable families to young people in secure estate. 
I have also travelled abroad to take part and present at the INSPIRE conferences, which were fantastic opportunities to network and put CORC's work out there. INSPIRE stands for International Network Supporting Psychotherapy Innovation and Research into Effectiveness, whose main goal is to inform themselves and others about the state of the art in psychotherapy outcome research. This objective and this research area align with the work we do at CORC, so we join this diverse group of clinicians, researchers, practitioners and psychotherapists from all different backgrounds for a couple of incredibly enriching days every year. 
Our annual CORC forums are a highlight of the year for the whole team. As well as hearing from great speakers, it's a great opportunity to meet with members, network subscribers and partners, and others in the field. I did my first ever presentation to CORC members in 2018, in which we shared the findings of CORC's survey on the use of outcome measures at a national level and its implications.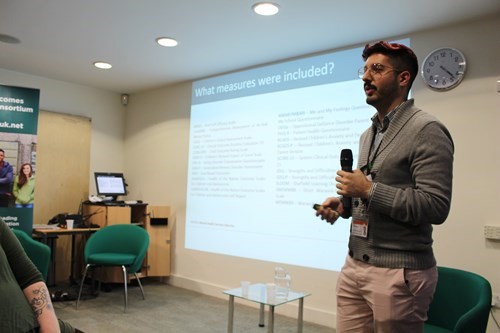 The theme varies each year, depending on what the present issues facing the mental health sector are. In 2018 we focused on the future of outcome measurement in education and mental health services and in 2019 we looked at finding a common language for child and youth mental health.
I have also collaborated on multiple research initiatives and keep contributing to research papers, which are an integral aspect of CORC and a very exciting part of my role, such as the 2019 study about predicting mental health improvement and deterioration in a large community sample of 11-to 13-year-olds.
My job would not be the same without the fabulous CORC team. I'm proud of being part of a diverse and enthusiastic group of colleagues who strive for excellence in collecting and using evidence to improve children and young people's mental health and wellbeing. Another really exciting part of my role is the engagement with young people, a constant source of inspiration, who are asking the right questions and giving us plenty of food for thought.
Overall, during this two-year journey, I have learned a lot, have met many inspiring colleagues, services and young people and their families, have seen changes and growth on many levels. And while perhaps I would prefer to be reflecting about these while sitting in the office among my co-workers, I know that we will overcome this change too and will give our best to continue doing the work we do in this new paradigm we are now living.
Lastly, our CORC team is only one email (corc@annafreud.org) or phone call (+44 (0)20 7443 2225) away. You can also tweet us @CORCcentral. Me, or a colleague, will be responding to your email or phone enquiries, as well as keeping the Outcome and Experience Measures Hub on the CORC website up to date, intended to serve as an easily accessible resource for individuals looking for information on how to measure children and young people's mental health and wellbeing. So do reach out!