Our Spring Seminars aim to bring you the latest learning from CORC members and our partners and collaborators. In previous years, we began to discuss with attendees what research can tell us about whether children and young people are being helped by mental health services and how we respond and define outcome data. This year, we want to continue on this journey with you by providing opportunities to hear about innovative practice, recent research and CORC member data and to consider how this might apply in your own setting. Please join us, contribute your own experiences and help us ensure young people's outcomes are at the heart of mental health support.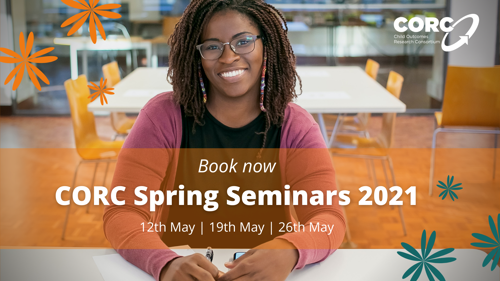 We welcome the opportunity in hosting our seminars virtually this year to reach colleagues across the country and beyond. The seminars are open to mental health and education professionals, service leads, young people and parents and anyone else interested in innovative research and dissemination practices in child and youth mental health. 
If you are a non-member, each CORC Spring Seminar costs £10. At the end of this page, you can also book all 3 CORC Spring Seminars for only £25. 
For any questions, please don't hesitate to email us at corc@annafreud.org.
---
1st SPRING SEMINAR: 12th May 2021 | 16:00 - 17:30
Promoting equality and diversity in feedback and outcome measures for children and young people with learning disabilities
The 1st CORC Spring Seminar aims to progress practice and practice-guidance on measures and methods for children and young people with learning disabilities (LD), their families and networks of support. The session builds on previous collaborative work in this area, led by the LD Network of the Division of Clinical Psychology's Children, Young People and their Families Faculty.
Click here for more information
---
2nd SPRING SEMINAR: 19th May 2021 | 12:30 - 14:00
The implications of differences in improvement rates for different mental health outcome measures: what should influence the choice of measurement tool?
At this seminar we will be sharing findings from recent analysis of the CORC data set, which highlights how the amount of change seen in outcome varies across different measurement tools. The session will be interactive and will open up discussion with participants about what these differences mean in terms of clinical practice, and how they might influence thinking about which measures to use to track outcomes.

Click here for more information
---
3rd SPRING SEMINAR: 26th May 2021 | 17:00 - 18:30
Engaging young people to improve their experiences of outcome measurement
This session is for anyone who would like to learn more about listening to young people's experiences of mental health service outcome measures. You'll go away from the session with new perspectives and tools to build into an action plan. Young people's feedback is invaluable in improving the interaction and quality of information from outcome measures. 
Click here for more information
---
Cost
Full members
Associate members
Non-members

Free
(Up to 10 spaces per training/event)

Free
per person

£25
per person
---
Kate Dalzell
Head of CORC
Kate is Head of the Child Outcomes Research Consortium (CORC) and leads research, informatics and service support teams in taking forward CORC's mission: promoting the meaningful use of evidence to improve child and youth mental health and wellbeing. Kate is also Head of Innovation and Dissemination at the Anna Freud National Centre for Children and Families. Her background is in service development in a local authority context, and in particular applying data-driven approaches to embed a focus on outcomes. She has been active in improving service collaboration and coordination around community needs through her work across a range of public, voluntary and community sector bodies – in particular in regeneration contexts. Recently Kate has been exploring how evidence and feedback loops can improve the impact of self-care (non-professionally mediated approaches) in child and youth mental health, as well as continuing to improve CORC's support to young people, commissioners, mental health practitioners and schools in making best use of evidence to improve outcomes.